Happy Birthday, Little Memory
TL;DR - little memory turns 1, app on sale for free this week only.
exactly 1 year ago: the little memory was born.
i'd always wanted a short-form way to jot down a snippet about each day, and i loved the idea of the one-sentence journal. i'm a bit of a sentimental and nostalgic person, and i wanted something that would encourage me to write succinctly. i know from my own past experiences how a big long page in a journal can daunt me with its vapid white void staring at me. i looked around, and i didn't find anything that was extremely simple and elegant that really worked for me.
thus, the little memory was born.
it's been quite a journey, and i continue to strive to make something as simple, elegant, and meaningful as possible. not only that, but also i've made friends along the way who've brought some great ideas, invaluable feedback, and unwavering encouragement.
here are a few examples of your extremely kind words:
"A telegraph-style of journal. Evocative."

Marilyn W.
"Thanks for taking the initiative to do things like this. They say, 'If not you then who?' and you have made it you."

Sophia P.
"Oscar Wilde said that our memories are the diaries we carry around with us. I love Oscar, but the diary I carry around with me is the Little Memory."

Komalley
wow! thanks so much, it's been amazing hearing from everyone, and i can't tell you how much these words mean to me. i'm encouraged so much to make little memory even better for you.
a little recap #
it's surprising to me how quickly time has gone by and also by how much i've been able to get accomplished. here are a few highlights of what's happened within these past 365 days:
email replies - some good friends suggested very early on that people were just too busy to login to a website every day; taking their advice, i added the ability to add your memories by simply replying to a daily email (thanks @jhreha and @dariusmc)
sms text messaging reminders - the app was still a bit away, and i wanted something that worked on all mobile devices. with encouragement from @jamestamplin, i got setup with Twilio, and soon we were live with text messaging.
launching the iPhone app - although i enjoyed email, web, and text interfaces for adding and viewing memories, i felt them a bit lacking in visual aesthetic. i wanted something even more elegant. again, good friend @jamestamplin played a vital role in helping me refine my design and user interface and now i'm so proud of this stylish, clean app that makes it extremely easy to both write and reminisce with your memories. i constantly get feedback from people who've said they love how simple the app is and how beautiful and elegant they think the interface is.
photos - this was a pretty big deal with the added infrastructure cost, storage use, and bandwidth as well as figuring out how to add the photos to the existing minimalist design without cluttering things up. after all the hard work, though, it paid off with gorgeous photos that people love to add to their memories and that people love even more to see recalled from the past.
mirror/introspection - i had the idea early on that i wanted see if i could get insights into my mood over time or even see the things that have been on my mind as time goes by. with some fancy language analysis, i've been able to get you some really interesting visualizations that help give you an easy way to look back on yourself.
launching little memory: premium - i wanted a way for lilmem'ers to easily help support the development of the app as well as to get more advanced features that are either costly to maintain or extremely resource intensive. just this past week, i added Dropbox integration, and i continue listening to feedback for new features that you'll find useful and meaningful.
10,000 worldwide memories - just yesterday, we reached this huge milestone for the little memory. i am astounded. i still remember adding my first few memories with a couple friends who were also using little memory as early alpha users and getting excited as i saw the worldwide memory count go up. i still get a little tinge of excitement every time i check as it goes up. it's one big milestone for this little app, and i look forward to a lot more as even more people discover little memory.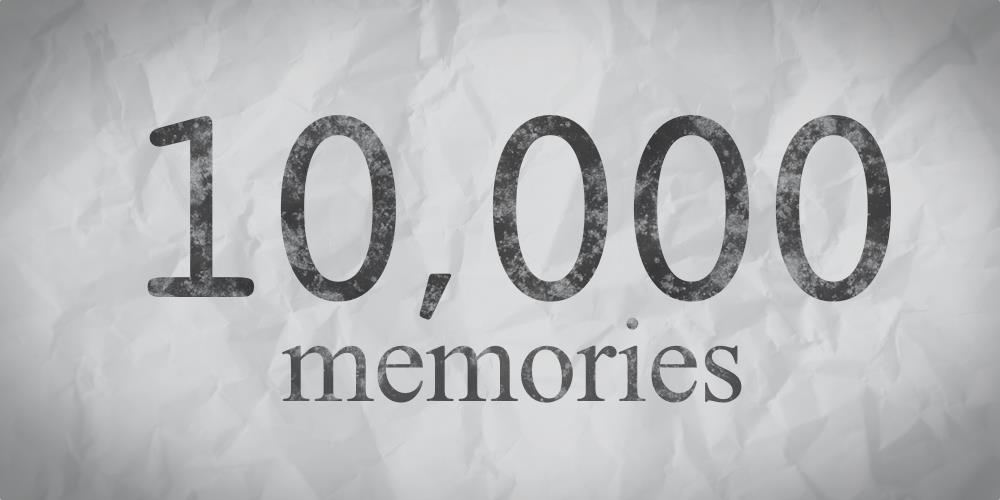 a little birthday present for you #
and, lastly, to celebrate this big day, little memory's first birthday, i'm putting the iPhone app on sale absolutely free from today until october 27th (this saturday).
spread the word, tell your friends, and share the chance for nostalgia, self-reflection, and massive meaning.
big thanks #
…and shoutouts: great friends at Firebase; the crew of Occupy Monday; @k4rl, Janet Kozawa, and Jennifer Cheng for all your support from the very beginning; and Jackie for helping me relax when i was a stressball.
got some feedback or maybe a story to tell about how little memory's been meaningful to you? send me message on twitter or facebook or send me an email.
Ivan
On your journey of personal self-growth? Little Memory is an incredibly simple daily journal for reflection and self-care. Write one sentence every day and see your growth over time.