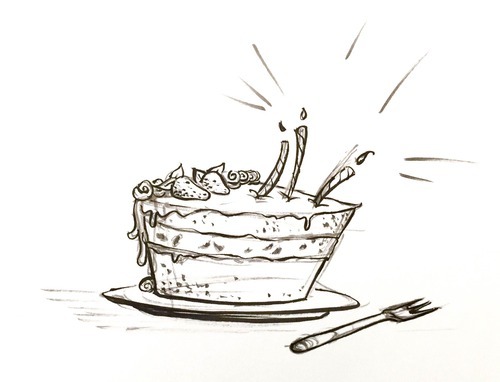 Art by Estella Tse
Today, little memory is 3 years young. My my, they grow up so fast these days.
What's happened this year?
The 100k memories milestone; heck, we're now even past 200k now.
Much thanks again to Kristin for her help with managing lilmem's social media. How did we end up getting all these followers? Yowzers.
The onslaught of new users who were OhLife orphans: I'm happy to hear you were all able to find a home here with little memory. Your contributions subscribing to premium helps to keep this project running, and all the traffic's been great at testing the resiliency of the site.
My good friends at Firebase joined Google (congrats again!).
Many many updates under the hood to help speed the site up and ensure that the site scales for more users without choking.
What's next?
Top priority right now is to get the iOS app updated with fixes for iOS 8. There are also new features lined up for little memory: premium very soon. What else does this next year hold? Who knows?
And here's a little quote:
"To do something new, of course we must know our past, and this is all right. But we should not keep holding onto anything we have done; we should only reflect on it. And we must have some idea of what we should do in the future. But the future is the future, the past is the past; now we should work on something new." – Shunryu Suzuki
Thanks, everyone, always, for your support.
Ivan
On your journey of personal self-growth? Little Memory is an incredibly simple daily journal for reflection and self-care. Write one sentence every day and see your growth over time.